Decisions made in president Ruto's first cabinet meeting.
Yesterday, The president of the Republic of Kenya, William Ruto, held his first cabinet meeting.
A number of Initiatives or decisions made in president Ruto's cabinet meeting include;
The Cabinet decided that the Kenya National Trading Corporation (KNTC) will undertake  various initiatives in a bid to conquer the adverse economic trends.
Additionally, KNTC is to ensure that enough sufficient food reserves are built in the country.
The trading corporation will further guarantee sufficient farm inputs and fertiliser to enable farmers increase food production.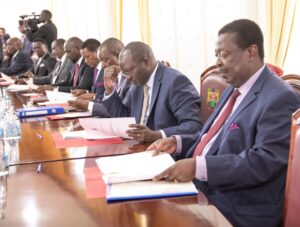 The statement read," It was noted that KNTC will leverage its infrastructure and capacity to help stabilize prices of all essential items in instances where price swings of essential items are abnormal and against the public interest."
"KNTC will continue to partner with the National Cereals and Produce Board (NCPB) and local and regional financial intermediaries specializing in trade and commodity financing," the statement added.
In an attempt to deal with the ravaging drought, the cabinet approved the implementation of several programmes aimed at conquering future crises.
The programs are characterized as proactive investment in high-impact, large-scale water harvesting, storage and distribution.
Further, the cabinet commissioned  Kabonyo Fisheries and Aquaculture Service and Training Centre of Excellence in Kisumu County to the tune of Ksh1 billion.
Among the roles of the fisheries is; facilitate training and research in Kenya's fisheries and aquaculture industry.
The centre will also take part in the production of raw materials catering for fertilizer .
The cabinet also discussed ways to roll out the hustler fund, it will be launched on Thursday, December 1.
Through the hustler funds, Kenyans will take up personal, micro, SME, and start-up loans.
The Review of the Competency-Based Curriculum (CBC), also featured. The Cabinet stated that it had received a preliminary report on its progress.
Lastly, for debts owed to road contractors, the government approved payment of Ksh92 Billion.
Also read Police Intervene an armed robbery as a university student is rescued from attack