Evacuation ongoing in Ruiru as a building develops multiple cracks.
Evacuation ongoing in Ruiru; This is after a residential apartment was found to have developed cracks.
Kiambu's first in command governor Kimani Wamatangi, who was present at the scene,  issued an order requiring the evacuation of the tenants in the building and the nearby apartments.
He said,"The house is too dangerous for you to stay in, so we are asking you to leave. We are going to cordone off the buiding in fourty five minutes."
The evacuation move, is a precautionary measure following country's rising number of building collapses, of which two cases have been reported in the last week in the counties of Kiambu and Nairobi.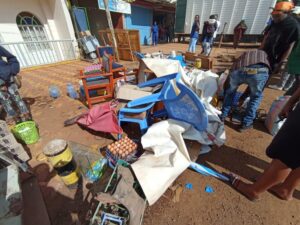 However, another building expected to collapse in Kiambu, has sparked a debate.
One tweep said,"Another falling building in Ruiru. From the news. There's a whole department, countrywide that needs to lose their jobs."
Another one posed,"A ploti cracks in Ruiru but the tenants are lucky to be evacuated mapema .
Have anyone noticed that the majority of buildings that have collapsed during any rainy season in the last few years have been built after 2013?"
Ngige commented,"Over 100 people evacuated from a 5-storey building that developed cracks at Ruiru town in Kiambu County, some of them are police officers. The owner of the building is unreachable!"
Another tweep wrote,"5-storey building has developed cracks at Ruiru town right opposite Ruiru Police Station in Kiambu County, tenants are currently being evacuated and kama kawaida governor Wamatangi is leading the operation."
One netizen posed,"Two buildings collapsed in Nrb past one week. Today another one(Ruiru) has shown cracks and emergence evacuation ordered. A bit worrying for our safety. Or are the buildings testing the new administration?"
Also read Robbery mission by thugs repulsed by police officers on patrol- Uasin Gishu