Amani party is not going to fold- ANC oppose merge with UDA.
Speaking at Mombasa county, Issa Timamy declared that ANC would not dissolve to UDA.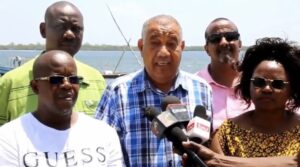 This comes after UDA's Secretary General, Cleophas Malala proposed a merge between the parties under Kenya kwanza and UDA.
He stated that there's no need to have one government with many colours. He further opinioned that through this, UDA will be one big and strong party against their opponents.
However, Musalia Mudavadi's Amani congress party has affirmed that they are not willing to fold to UDA. They stated that that is not the kind of agreement they signed before the August general elections.
The now party Leader , Timamy, stated that they are an independent party that is under Kenya kwanza, and that topic is not up for discussion.
Timamy stated, " I want to make it clear that the Amani party is not going to fold. we are an independent party which is part of the Kenya Kwanza coalition. That discussion is not important now.
"There was an agreement that was signed between the various constituent parties and Amani party is a major stakeholder," he added.
Timamy however, highlighted that they are in full support of their coalition( Kenya kwanza) Which is under the leadership of president William Ruto.
Speaking at the same press release, was Vihiga Representative Beatrice Adagala, who reprimanded Cleophas Malala for pushing their political party agendas for the election in 2027, instead of dealing with the current economic crisis.
Adagala stated,"It is the time when Kenyans are looking up to all the elected leaders to deliver. Kenyans want to prices of electricity, fuel, maize flour, cooking oil and milk have reduced."
Also read DP Gachagua and Sakaja differ on the 3,000 hair budget for Wife