KPLC will no longer issue a breakdown of token charges in a message, here is why.
The Kenya power and lighting company, KPLC will no longer issue a breakdown of token charges in a message as they have always done.
Normally, KPLC will give a breakdown of tax charge, the fuel energy charge, the forex charge, the Energy and Petroleum Regulatory Authority (EPRA), and the inflation adjustments, among other important information.
One consumer raised,"When you buy tokens, and they take over half your money for other charges, shouldn't they explain what may have necessitated the increase?"
The new token message now details the tokens, date of purchase, units, the amount spent, and the token amount.
Below is the previous and now breakdown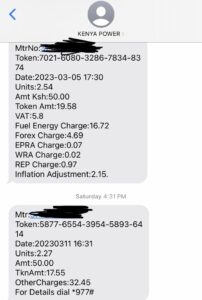 Upon queries from concerned Kenyans, the power company stated that a number of consumers requested brief messages about the tokens purchased.
KPLC stated,"The change has been effected after numerous engagements with the public including a recent survey where our customers requested a briefer statement of their electricity bills."
However, if one still wants the whole breakdown, the can dial the code *977#.
Kenya power stated,"Going forward we will no longer be including all the cost elements in the SMS. Customers can get additional details about their bills via *977#."
This comes days after adjustments of fuel charges and the increase in forex charges that led to increase in electricity charges.
Also read 30 Nyanza politicians who are set to join UDA, after ditching Raila
More news to follow…