IGAD calls for a decisive action on the crisis in Sudan.
IGAD calls for a decisive action; In a report that was made by the state house of Kenya, The Intergovernmental Authority on Development (IGAD) has called for an immediate cessation of hostilities between the warring parties in Sudan.
Presidents from Eastern African, joined hands, in a conference meeting, to discuss the situation that could be detrimental to the peace that Sudan has enjoyed for a long time.
The heads of state available in the meeting included President William Ruto from Kenya, Salva Kiir (South Sudan), Kaguta Museveni (Uganda), Ismail Omar Guelleh (Djibouti) and Hassan Mohamud (Somalia).
The Kenyan head of state, President William Ruto, urged IGAD leaders to take a firm position to restore peace in Khartoum.
The leaders called on the Transitional Sovereign Council General Abdel Fattah al-Burhan and General Mohamed Hamdan Dagalo to curb the war and return to the negotiation.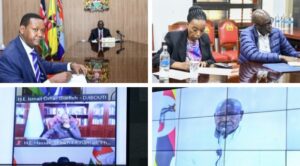 It was resolved that  Presidents Kiir, President Ruto and President Guelleh at the earliest possible time to reconcile the conflicting groups. They highlighted that stability in Sudan is key to the social and economic stability of the region.
They further decried that the conflict, undermines the peace progress achieved over the last four months. The leaders also asked the two groups to provide a safe corridor for humanitarian assistance in Khartoum and other affected towns.
This comes after President Ruto called for an amicable way of solving the crisis.
He stated,"Kenya is concerned about the developing crisis in Sudan. I implore all parties to address any differences through peaceful means for the sake of the security of the people of Sudan and stability in the country and the region, especially during this Holy month of Ramadan."
Also read We will in July lift a moratorium on logging- PS Kimani