Do you want a bash?- DP Gachagua splashes money on graduates and pupils.
The second in command, mesmerized Mukurwe-ini students, by giving them half a million, to help them organize a party.
DP Gachagua stated,"The president said that I should ensure that work is done. Now, should I organise a bash? Do you want a bash? Are you going home today?"
"You are the one who gave me this job and if they say they want a bash. I must do it.  I will, therefore, leave Ksh500,000 for you to organise your things," he added.
On also gave a neighboring primary school, a sum of 100, 000 shillings.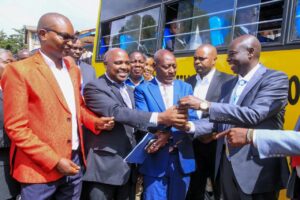 This happened where he presiding  over a hand over of a bus at Mukurwe- in secondary.
DP Gachagua stated,"The National Government Constituency Development Fund (NG-CDF) plays a key role in improving infrastructure in our schools. The Fund has financed construction and equipping of learning facilities and purchase of buses in both secondary and primary schools, easing traveling for curricular and extra-curricular activities.
"Earlier today, I presided over the official handover of a bus to St Benedict Wamutitu Secondary School in Mukurweini, Nyeri County. The vehicle was funded by Mukurweini NG-CDF, whose patron is area MP John Kaguchia. The school has 490 students. It is one of the main choices for many students. Because of the government's 100% transition policy from primary to secondary, the enrollment in the school continues to grow," he added.
He additionally explained President William Ruto's 3 per cent levy.
He stated,"The housing programme will create employment for the young people, especially for the graduates in TVETS at an average of 8 artisans per unit. We want to ask all Kenyans to find it important and necessary to support the programme."
Also read CS Mutua reveals details of bilateral meeting between Kenya and Canada's immigration