DP Gachagua celebrates Limuru Girls School's 100 years of excellence, gives them 1M for a party.
Speaking during the centenary celebration at Limuru girls, DP Gachagua celebrates Limuru girls together with the head of state.
He stated,"Let me plan for the party of these girls so that they can eat what they want. So let me bring that Ksh1 million for the students' bash and give it to the Chief Principal and leave other major issues for President Ruto to address."
The DP further expressed the kind of academic excellence, the school has showed over the years in Kiambu.
Academic excellence is the epitome of well established learning institutions that shape and impact society and a nation. institution in Kiambu County is among the traditional national schools that have performed highly and churned out professionals who have contributed to the growth and development of our Nation for years.
" We will continue investing in such schools and other upcoming institutions to give them more impetus in delivering quality education. I encouraged the students to be focused in their studies because they have a great opportunity to be excellent professionals and leaders who will join us to build our nation. Congratulations to the parents, teachers, and students for keeping the school shining for all these years.," he added.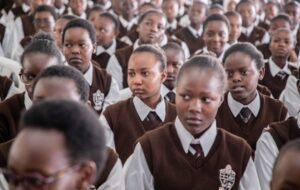 On his part, President Ruto who was also at the celebration, promised the school a new bus because of the growing population.
He stated,"I have realised that the number of students has increased they were 1,400 right now, they are over 2,000. So I will look for another bus next week because two buses for over 2,000 students are insufficient."
Also read Interior CS Kindiki gives update on the search and exhumation of Shakahola victims