Babu Owino responds to critics over the viral math quiz targeting CJ Koome and Chebukati.
Embakasi east member of parliament, Babu Owino responds to critics over a math question.
In the question, Chebukati and Koome were given Ksh815,000 to share in the ratio of 2:3, respectively, the candidates were required to solve how much the latter would get.
This question sparked a huge debate on social media, with Kenyans commenting that Babu Owino was targeting the two on the basis of general elections.
However, Babu Owino has refuted claims that he was targeting anyone. He blamed the allegations on his opponent who are trying to put him down.
Babu Owino said,"The allegations are coming from my unworthy opponents who are trying to soil my otherwise good name."
Hon. Babu has been running online mathematics classes that he started during the Covid-19 pandemic, to aid learners revise at home.
His efforts to help learners were even recognized by voice of Africa and United nations.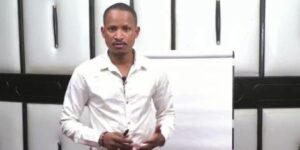 Voice of Africa wrote,"The pandemic has seen different people device mechanisms to ensure students continue learning while staying home."
"Babu Owino is a Kenyan MP who has decided to use his talent in science subjects to educate students using his social media platforms," the added.
Also read The money markets will shut and so will the government- Uproar on government financial borrowing rules