Doctor murdered after leaving police station.
Grief struck a family of a doctor murdered after leaving police station.
The doctor by the name Raphael Nyamweya was murdered after leaving for Ngong police station to report his lost phone on Mashujaa day.
Speaking to the media, His wife Brenda Kwamboka stated that her husband's  body was found in the house of boda boda rider he had left with from his house in Ngong area.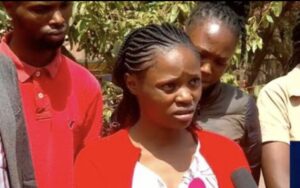 Kwamboka stated,"It was quite unfortunate. I did not expect to receive bad news. It came to me as a shock. He was well when he left in the morning and an hour later I called him, and we spoke.
"He told me that he has reported to the police about his lost phone and he was coming back home. I waited but he did not come,"she added.
When he did not come home, the wife reported that she tried to reach his mobile severally, only to be answered by the boda boda guy.
She said,"When I tried calling my husband's phone number, the call went through but it is the boda boda who picked up. He could tell me he was not with him but he had his Simcard and was bringing it home. He switched the phone off," she added.
Supporting her statement were the neighbours to the boda boda guy, who stated that they saw Nyamweya and the boda boda guy enter his house.
A neighbour reported,"I was cleaning clothes and I saw two men on the motorbike carrying someone. He looked (pathetic). He was too weak."
Nyamweya was expected to start practising his career in veterinary medicine.
The union of veterinary practitioners of Kenya( UVPK) have condoled with the family, urging the police to shed light on the matter.
UVPK chairperson stated,"What is shocking to us, and the reason why we are here today, is the slow pace of action by the police here a week after the matter was reported despite important information relating to the circumstances of the murder and details of the suspects having been volunteered by the locals."
Also read Governor Sakaja clears school fees arrears for DP Gachagua's mimic