Kisumu boys parents to pay for damages states Magoha. Yesterday, the Kisumu boys national school razed down on fire.
With the cause unknown, several buildings in the school were burnt down , disrupting the normal learning of the school.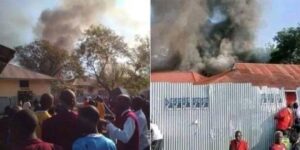 Cabinet secretary incharge of education has spoke regarding the fire. He stated that parents of Kisumu boys will have to pay for the damages caused by the fire.
In his statement, Cabinet secretary education, Goerge Magoha further said, the efforts to disrupt the school calendar are in vain.
He stated that learning will continue regardless of the fire.
Magoha said,"If you are mad, why don't you start by burning the house of your father? We don't play such games. The parents will rebuild and that's how it is, pure and simple."
CS Magoha further issues out a warning , to any one who planned to burn down the school, Kisumu boys will face the law.
The Saturday morning when the incident happened, the school had to ensure the safety of its students.
According to reports, the buildings that were burnt down, accomodate a total of 250 students, which is a big number.
Fighfighters who came to the rescue , had to work extra hard to put out the fire before it got any worse.
Julius Jwan who is the principal secretary in early learning basic education expressed his gratitude to the red cross team that showed their support during that time.
He stated that the red cross had provides tents and other equipments that were destroyed in the fire to ensure that students continue with studying for their examinations.
He said "We want to thank the Red Cross for offering 20 tents, 10 used for accommodation and the rest for studying."
He further stated that the school is making arrangements with more sponsors and well wishers who have offered to support the 250 students who were affected.
He said,"The school has arranged with their suppliers and partners who have confirmed that they are delivering equivalent bedding for all 250 learners who have been affected.