Machakos university closed down indefinitely after another student was shot dead in an alarming insecurity state.
Machakos university closed down indefinitely ; This comes a day after another student was shot dead in alarming insecurity state of the university.
The memo read,"Due to the evolving insecurity situation around the University and the ongoing students demonstrations, a Spccial Meeting convenecd on 7th December, 2022 resolved that in the interest of the Security of Staff and Students', the University be closed with immediate effect."
"This is, therefore, to inform ALL STUDENTS to vacate the University premises with immediate effect. Further communication will be made in due course," the memo added
On monday, the directorate of criminal investigations reported that they had arrested a suspect in an early shooting of a student called Anusu.
The DCI wrote,"A police officer is currently in custody at Machakos police station on suspicion of shooting and seriously injuring a university student. Police Corporal Michael Mulwa, is suspected to have shot one Brilliant Anusu, a Machakos University student who together with his colleagues had staged a demonstration due to the escalating level of insecurity in the are escalating.
However, the situation got worse, yesterday after students decried for the insecurity rate, another comrade was shot.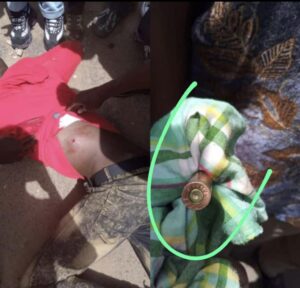 Netizens' uproar has sparked with others asking when will justice prevail if they are shooting comrades daily.
Mabonga wrote,"Comrades who came with bags to Machakos University (Brilliant Anusu and Dancun Kipng'etich) are now going home in coffins at the expense of police officers.
The police officers Rob, kill and shoot to kill. When will justice prevail?"
Ricky tweeted,"Today machakos university mourn the death of another comrade who was shot by police using life bullet during demonstration. Why use life bullet to shoot students???
Justice for Anusu."
Fresha wrote,"Police can't protect the comrades from thugs but can shoot the same comrades while demonstrating.
So sad."
Also read Masses at Raila's Kamukunji rally attract a huge debate on the socials