NPS issues a statement on what happened on the Kisumu- Kakamega road lorry accident
NPS issues a statement on what happened; The Lorry rammed into several vehicles at Kakamega- kisumu road, this is after it developed break failure.
The national police service statement read,
"A grisly road traffic accident involving multiple vehicles occurred earlier this morning at Givole along Kisumu-Kakamega road.
A speeding lorry suspected to have developed break failure rammed into several other vehicles from behind
Police and rescue services responded promptly and evacuated accident victims to various hospitals and restored movement along the affected stretch."
The national police service has called on motorists to be careful when on the roads.
"Motorists are cautioned to at all times adhere to traffic rules and regulations to ensure their own safety and that of other roads users is observed," NPS added.
Howerver, netizens have reacted to this news others refuting claims of a possible break problem.
One netizen commented,"It's alleged the roadblock on slopy road caused the accident."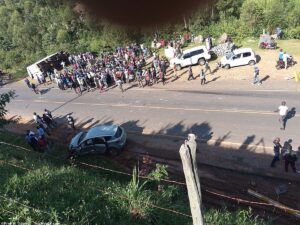 Another commented,"Police are cautioned to at all times observe road safety and not stop vehicles at busy junctions and exits unnecessarily risking the lives of drivers and passengers."
"You conveniently forget to mention the bribery collection hot -spot manned by your officers that led to this accident," one tweep commented
Also read Waluke must stay in jail where he belongs- Miguna tells off Raila