Nursing job opportunities in USA.
Nursing job opportunities in USA are now available.
Requirements
Registered nurse
1 year+ current and consistent nursing experience
Experienced in working in an hospital with over 80 beds
Experience in clinical inpatient setting, Medical/ Surgical emergency room/ ER, Intensive care unit/ ICU, inpatient oncology, etc
NCLEX and IETLS/ TOFEL can be done after interviews.
The interview prep sessions will be held at Sirikwa hotel, Eldoret from 3.00pm.
For those who plan to attend, sms : Eldoret+ Name+ Phone number+ Email to 0777220122.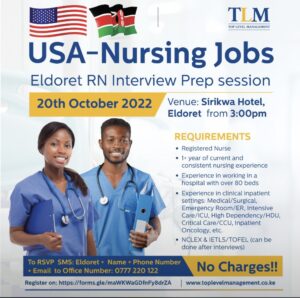 Note : No charges are applicable