Reactions to MP William Kamket's demand to remove police officers from Tiaty after DP Gachagua tells him off.
Yesterday, the second in command, Rigathi Gachagua at  Kabarnet ASK grounds in Baringo, went off on MP William Kamket.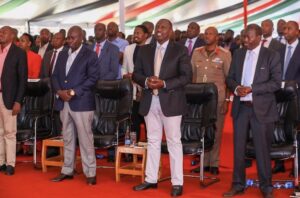 He said," I have heard MP William Kamket asking the President to remove police officers in Tiaty. Those police are there to work. If you want the officers removed, talk to bandits to surrender arms. Before then, we are not removing police officers."
North Rift has been characterised with killings and banditry, in the past and even now.
DP Gachagua's words, have raised reactions to MP William Kamket's demand of police removal from the rift.
Barmasa Barmasa tweeted,"Mp Kamket thought joining the government will provide immunity to bandits in the Tiaty region, it is good DP Rigathi Gachagua told him straight to his face that the police will never come out of Tiaty until bandits are smoked out. Kiririon!"
Its Kibe commented,"People like Kamket have no where to run anymore.peace must come to Baringo.and its not negotiable…
~Many will come to appreciate our beloved Deputy president Rigathi Gachagua..he is practical."
Migosi said,"DP Rigathi telling William Kamket the painful truth is something I have waited so long to hear, something good came from his mouth today at least."
Festus tweeted,"This is the way to go Your Excellency DP Rigathi Gachagua.
The enemy and the mastermind behind the perennial cattle rustling in Baringo county and the Kerio belt is Tiaty MP William Kamket. Period!"
Rono tweeted,"Kamket wants to start his usual game! Somebody need to tell him Riggy G handles things differently. He may be required to answer to a few issues."
Ryota said," I support 100%…GoK a dealing with Kamket with kid gloves far way too long because of his association with GM…let disarmament happen ASAP."
Also read Get to know Yakub Salah, MP behind presidential limit push