Sakaja removes street families and traders from footbridges in a bid to curb insecurity in Nairobi.
Nairobi county governor, Johnson Sakaja removes street families and hawkers from occupying footbridges in a bid to curb insecurity in Nairobi.
Speaking to the media, Nairobi's first in command expressed his commitment to enhance the safety of the people of Nairobi.
He said,"To make sure that there is security there were street families that were staying there and we have cleared them, we have cleaned the bridge, the fire department has come with its pipes and nobody will be allowed to conduct business to live on our bridges and fly-overs."
"If you want a space for trade we will find you a space for trade but not in a public utility like that," he added
Uproar over the surge in insecurity cases in Nairobi has been a trending topic on social media.
He wrote,"Footbridges and flyovers are for use by pedestrians. We've restored and cleaned 3 along Landhies and Jogoo road that had become a dangerous harbor and mugging scene. We shall return sanity and order."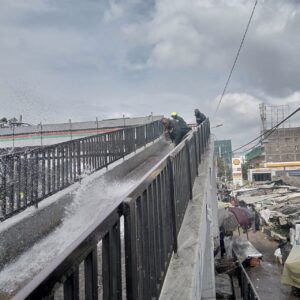 Netizens pointed fingers on the national police for their lack of action amid the suffering faced in the streets of Nairobi.
Also read We will ensure this region is peaceful- President Ruto on Peace in Kerio valley