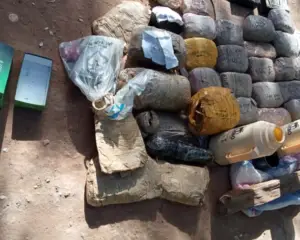 Samburu East police officer in possession of Bhang arrested.
In Samburu East police officer was arrested because he was caught in possession of Cannabis sativa.
He was arrested at his home at the directorate of criminal investigation was given the information about him.
In the scrutiny, the DCI found approximately 15 tonnes of wood suspected to be sandalwood.
A further search in his house led to the recovery of a G3 Riffle with an empty Magazine, 2 ammunition rolls and 30 stones of Cannabis sativa.
The officer has been arrested and waiting investigations.
Also read Safaricom announces fuliza discounts; Details