Startup fund to enrich young people with innovative ideas- President Ruto expected to launch another fund next month.
The head of state, has highlighted that he is going to launch another fund in favor of the young people.
He stated that the startup bill will be taken to parliament, for it to be debated on and passed for the well good of the young generation.
President William Ruto was speaking today at Sarit centre, where he commission the innovation week.
He said," A startup bill will be taken to parliament in January to have a startup fund to enrich our young people with innovative ideas."
"As you have heard from the statistics, most of the startups are still in the budding stages. Through this fund, innovators can access resources to boost the ideas they have and bring them to life becoming well-paying businesses," he added.
He further stated that plans to launch free internet are underway , through this, markets, schools and even homes will receive the government provided internet.
He stated,"Many people across the country wanted access to the internet that's why we will use Ksh40 billion to roll out 1000km of internet across the country in 29,000 schools, 26,000 markets, and 8.5 million homes."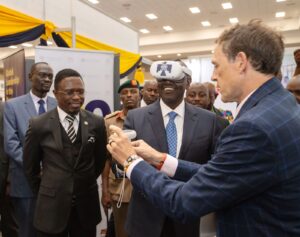 Additionally, the president stated that they formulating policies that will nurture and stimulate innovation in Kenya.
He stated,"We are developing relevant policies that will nurture and stimulate innovation in Kenya. This is in appreciation that innovation has the power to accelerate productivity, generate gainful employment and create wealth for millions of ordinary people."
Also read Raila would have better said we demonstrate on the high cost of living- Kenyans on Raila's rally again