Tragic as trailers collide head on at Maai – Mahiu.
Tragic as trailers collide head; An incident that happened today morning at Maai – Mahiu.
According to the national police service, both vehicles veered off the road, busting into flames.
NPS reported,"ROAD TRAFFIC ACCIDENT IN MAAI- MAHIU. A serious traffic accident occured this morning at Governor area along Maai Mahiu-Naivasha Road due to a head-on collision involving two trailers. Due to the impact, both vehicles veered off the road bursting into flames."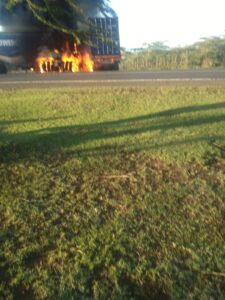 The victims are currently nursing their injuries at Naivasha sub- county health facilty.
NPS stated,"Officers from Maai Mahiu Police Station responded swiftly ensuring all casualties were evacuated and are currently recuperating at the Naivasha Sub-county Hospital."
The national police service has urged all road users to be mindful of the traffic rules and adherence to them, even as the country enters the festive season.
NPS wrote,"We urge all road users to take personal responsibility and exercise caution especially during this festive and rainy season by adhering to traffic rules on overtaking and speed limits."
You can also report an accident or reckless driving by contacting the national police service or the directorate of criminal investigations.
"To report an emergency of any nature, kindly reach us on 911, 112, 999 and #FichuaKwaDCI 0800 722 20."
Also read EPRA announces December fuel prices