Uproar as a delayed surgery causes death to a child in KNH.
Uproar as a delayed surgery leads to death, in a 2 year old boy who had a fork logged to his skull.
Judy Muthoni, the mother, shared the devastating news that her son passed on while undergoing surgery.
The news of the young boy spread all over social media today, after reports that he had not received any treatment despite being in the facility for long hours.
Netizens had criticized the hospital for keeping the young boy in waiting considering the painful unfortunate condition he was in.
The boy, who was accidentally hit with a fork Jembe by his brother while playing had first been rushed at Thika Level five hospital, however, he was referred to Kenyatta National Hospital for surgery since he was in a critical condition.
After an uproar on social media over the doctors at KNH neglecting two year old, the hospital released a statement claiming he had lost alot of blood and the procedure he required was delicate.
KNH stated,"The patient had lost a lot of blood, and as a result, the clotting process was not occurring as expected, thereby delaying the surgical procedure as this would have been dangerous to the patient."
Confirming the news of her son's death, the mother blamed the doctors for taking too long to conduct the procedure.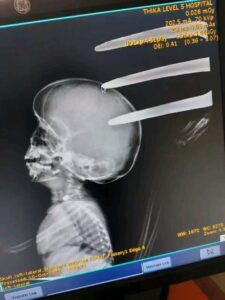 Reacting to the news were netizens who stated that death could have been avoided if not for negligence.
Kipchirchir said," sympathies are with the family of the boy we just lost on the operating table at Kenyatta National Hospital, KNH. The multidisciplinary team tried their best but unfortunately could not save his life."
Boniface Mwangi also condemned,"Suffering a cracked jaw, a broken hand, two missing teeth, and with blood draining into his brain, Ken Walibora, one of the most celebrated authors and scholars in the country, lay waiting for help that never came for 14 hours at Kenyatta National Hospital on April 10, 2020."
Also read Kalonzo talks on taking Wetangula to court- He was manipulated