KPA clarifies a job announcement advert.
Kenya ports authority, KPA clarifies a job announcement advert, of over 300 vacancies.
KPA issued a precautionary statement, termed the advertisement, which was calling for applicants to fill 300 Docker Grade HG4 vacancies, as a scam.
In the advert, successful applicants would report directly to the Authority Supervisor while handling cargo manually in stevedoring and other shore handling operations.
The notice warned,"The Authority wishes to warn members of the public to beware of fraudulent recruitment scams and cons claiming to be recruiting on behalf of KPA. The con artists are currently circulating a fake advert via digital platforms on recruitment of dockers."
Job seekers have been warned to stay on high alert for scammers.
How to spot a fake job advert.
Check out for spelling or grammatical errors in the advert.
Do quick search to ensure a company has an online portfolio
Be on high alert on the recruiter's email. Avoid addresses that have a personal domain such as Yahoo, Gmail, or Hotmail.
The salary payout, if the deal is too good think twice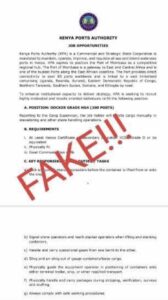 Also read ANC names Mudavadi's replacement