Charlene Ruto in the political arena; Holds meetings with government officials.
Lately, President Ruto's daughter, Charlene Ruto has been witnessed venturing into politics.
Charlene, who is also the Weston hotel public relations and branding officers, met up with the top government officials, including governors, deputy governors and other executives, across the country.
This come a week after she travelled to Ghana with other delegates.
Today, friday 28th , Charlene met up Kirinyaga's deputy governor, David Githanda, where she commended the county head, governor Anne Waiguru, for championing for devolution.
Charlene said,"Kirinyaga County is ripe for investment in hospitality areas and value addition of crops such as tomatoes. It was a pleasure sitting and sharing these matters with deputy governor, David Githanda. The progression of our counties is the progression of our country."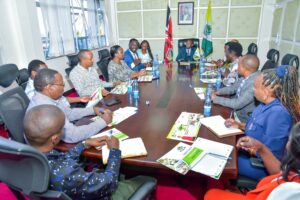 On Wednesday, October 26, She also travelled to Embu county, where she met governor Cecily Mbarire and other regional women leaders.
On october 25th, President Ruto's daughter met Isiolo County deputy governor, James Lowasa.
Charlene stated,"We engaged in key discussions on climatic change, and its impact on Environmental progression. A tree planting exercise will be conducted come December 2022, along with another follow-up engagement with various stakeholders."
However, Charlene Ruto on the political arena has raised a lot of reactions from the social media.
One tweep commented,"Why the hell is Charlene Ruto galavanting the country meeting governors and holding meetings.
Another netizen tweeted,"So in what capacity is William Ruto's daughter Charlene Ruto meeting the County governors?

"What is state capture? State capture is Charlene Ruto going round visiting governors to set a base for kickbacks,"another one added.
One tweep questioned,"Have you noticed Charlene ruto is moving around the country using tax payers money, and you can imagine he has five kids moving around, how much do they spend in a day the whole family."
Also read Gladys Chania pens down an emotional letter to the late husband