Shaking hands with your enemies is a mark of statemanship- Reactions on Atwoli reconciling with Ruto.
Yesterday, COTU secretary general, Francis Atwoli, stated that he paid the head of state a courtesy visit.
A statement that has sparked a huge debate on the socials,  being that, during the campaigns, Atwoli was so against Kenya kwanza and vocal about taking President Ruto back to Sugoi.
Atwoli Wrote,"This morning I paid a courtesy call to H.E President William Ruto whereby we held discussions on Kenya's ratification of ILO C190 and outsourcing of labour. I also sought an appointment with the Head of State to meet and share with all @COTU_K Affiliated General Secretaries."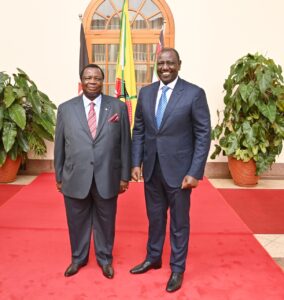 Netizens have reacted to the photos of him with the head of state sharing light moments.
Mutahi Ngunyi wrote,"Shaking hands with your ENEMIES is a mark of STATESMANSHIP. Reconciling with Atwoli, President Ruto has used a script borrowed from the book " Team of Rivals: The Political Genius of Abraham Lincoln". In politics, enemies have more CURRENCY than friends."
Hon. Mike Sonko wrote,"Haka kagukaa huwa kamechanuka sana na kako mbele sana kisherehe. Huwezi kosa lingala band pale kajiado. Kamepanda mpaka mukobero kwa shamba. Karibu sana @AtwoliDza."
Ahmed Mohammed wrote,"Khalwale made it happen. Atwoli is a political schemer. I keep telling people in politics never rule anything out. I mean it's not religion after all! It's only a fool who doesn't change his mind.
This comes days after Atwoli told off Opposition leader, Raila after he claimed that Kenya kwanza is hinting at a dictatorial state.
Atwoli said," We are not a dictatorial state. We are nothing near there yet. Those who are saying Ruto is a dictator are leaders in political space, let them talk because this is what they fought for.This current government has promoted free speech and the president has not castigated anyone for criticizing him."
Also read No one has the power to break, overlook or override the law- Ahmed Nassir tells off Sakaja for overlooking Noisy churches