We know what they did, Tukutane Kamukunji- Raila says he's not backing out.
Opposition leader has maintained that his announced rally on Wednesday, is still on as planned.
Speaking through his verified twitter account, opposition leader says he will reveal everything that happened in the elections.
Raila wrote,"We know what they did, how they did it, and who helped them do it. We shall reveal all that shortly. Our meeting this coming Wednesday will proceed as planned.Tukutane Kamukunji. Asanteni Utawala.
Earlier, Opposition leader had wrote that it is important that he raises these issues because he has witnessed Dictatorship first hand.
He wrote," I raise these issues because I've witnessed a dictatorship emerge and bloom. I've witnessed self-proclaimed god-fearing leaders preside over the persecution, false prosecution and even murder of innocent Kenyans. I've witnessed an insecure regime run our economy to the ground."
Opposition leader also told off President Ruto that the country Kenya has a system, which is the rule of law and democracy.
He urged all Kenyans to stand up and support him so that he can bring the newly invented System down.
He stated,"We wish to remind Mr. Ruto that this country had a system like the one he is trying to reinvent. We fought that system. We brought down that system. We will do so to the one he is inventing now. We will bring it down. Let us all stand up for our country before it is too late."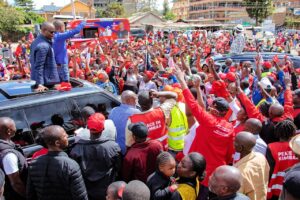 However, netizens have replied to his sentiments others urging him to move on.
Bianca wrote,"Baba, the entire world is a witness that Ruto won the election. The same world is alive to the fact that Uhuru tried to steal this election for you. Stop whining and crying. It's high time you retired and let fresh breed of leaders take up the opposition role."
Mohammed Jalloh commented,"Baba please stop this dangerous game of instability. All the institutions of state in Kenya have made profound pronouncements about the elections, let it be. Allow the current President to govern the people you so claim to love in peace. Please respect the Rule of Kenyan Law…."
Also read Our beloved president and I have gone through a lot of suffering- Kawira Mwangaza