She was given an ultimatum that she resigns- Masit reveals threats and intimidations she's been receiving.
The last woman standing, Irene Masit who appeared before the Muchulele led tribunal , has stated that she has been receiving a number of threats.
Through her lawyer, Donald Kipkorir, Masit stated that she receiving an anonymous calls demanding for her exit from the Independent electoral and boundaries commission( IEBC).
Additionally, Masit's security and other allowances as an IEBC officials, have been withdrawn.
Kipkorir stated,"She was given an ultimatum that she resigns or something will happen to her and she knows the lady who called her and that is an issue for this tribunal."
However, the tribunal chair, Muchelele has stated that the allegations will be treated as substantial or rumours until a clear investigation is done.
The chair stated,"We will treat it as rumour because there is nothing factual that put before us, if you tell us that so and so by name is putting pressure on the commissioner to resign then we will go by it."
Muchelele although, stated that Masit's security and allowances should be reinstated, being that her case is pending and a national matter.
Earlier, Masit's lawyer has filed petitions against the unlawful suspension that the tribunal had recommended to the president.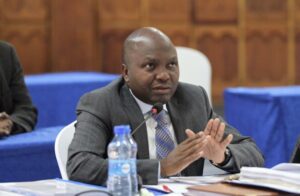 Donald stated,"IEBC Irene Masit has given me firm instructions to quash her unconstitutional impeachment proceedings by Writ of Certiorari. We have already filed a Constitutional Petition in High Court, Nairobi. Any reports that she has resigned are the work of political brokers & idlers."
"In civilized democracies, outcomes of judicial processes & inquiries are uncertain & unknown because the Judge/Umpire listens to a dispute courteously, wisely, soberly & impartially. Where an outcome is known in advance, the Court/Tribunal is a Busaa Den!" he added.
Also read TSC to offer 35,000 job opportunities; How to apply