Anyang' Nyongo who missed Raila's rally to meet with Ruto reveals details of the meeting.
The Azimio ally, Anyang' Nyongo who missed opposition leader's consultative meeting to meet up with the head of state, has raised a lot of controversial stories.
Makadara member of parliament wrote,"There is no way people can forsake Raila at his hour of need. It was sad that those who have been looking for him for endorsements could not attend the rally."
Kogalo wrote,"And which State House was this? The Nairobi or Kisumu one? Did you not also meet President WSR, or only met the UK Foreign Secretary? Sometimes we read things that you refrained from saying and we complete them for you. Excellent Governor."
Explaining himself, The Kisumu county governor stated that he discussed the multi-billion climate change and smart agriculture project that is set to be launched in his county.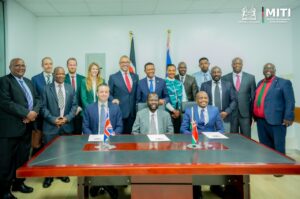 He wrote,"Earlier today at State House together with James Cleverly, the Secretary of State for Foreign, Commonwealth and Development Affairs of the United Kingdom where we held talks over the Ksh 30 billion, United Green project coming to Kisumu."
"We discussed the Ksh30 billion United Green project coming to Kisumu and how we can pull our resources and synergies to mitigate the effects of climate change."
"The project will be financed by UK government but its implementation, however, require political goodwill from Ruto's government," he added.
Also read A case of planned targeted assassination- Pakistan detectives sent to Kenya report on Arshad's death
More to follow…