Robbery with violence criminal arrested in Kisumu; NPS.
The national police service, has reported that a robbery with violence criminal is currently behind bars.
The statement
NPS Officers from Kondele Police Station in Kisumu County yesterday arrested one man in Kondele in connection to a robbery with violence incident that happened on 19th November, 2022 in Bondo. The incident was reported at Bondo Police Station, Siaya County.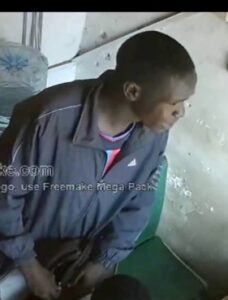 During the incident that was captured on CCTV camera, the arrested man and his accomplice who is still at large, attacked a supermarket attendant at gunpoint and robbed from him cash amounting to Ksh. 300,000 and assorted mobile phones.
The man arrested is believed to be the one seen stuffing cash in a bag in the video. Also arrested is the mother of the underage boy that was ferrying the two suspects on a motorbike on the day the offence was committed. The matter is with the DCI Bondo.
We appeal to members of public to share with the nearest police station or through our toll-free numbers; 999,911,112 or fichuakwaDCI 0800722203,
any information that may assist us in the arrest of the remaining suspect and recovery of the firearm(s).
NPS however cautions the public that the suspect at large only known as David alias 'Brownee" is armed and therefore dangerous.
Also read National police service seizes contraband ethanol worth 6 million in Kapenguria