Details of the African Union Peace and Security mini-Summit attended by Ruto in Addis Ababa.
According to a statement from state house, details of the African mini- summit attended by heads of state are as follows,
President Ruto has called for political leadership in the Democratic Republic of the Congo to drive stability in the country.
He made this remarks on Friday in Addis Ababa during the African Union Peace and Security mini-Summit of Heads of State and Government on the situation in Eastern Democratic Republic of Congo on the sidelines of the 36th Ordinary Session.
He stated that this effort must be corroborated by countries neighbouring DRC for peace and sustainability.
He added that if the countries do not take this bold steps, they will be affected negatively.
He stated,"Without these bold steps, our region will not be able to ride the negative effects."
He however, outlined that the resolution of the conflict still has a long a way to go and appealed for more support from regional bodies and the international community.
He added that the resources will support comprehensive interventions to assist the growing humanitarian needs.
Other presidents present include; João Manuel Gonçalves Lourenço (Angola), Évariste Ndayishimiye (Burundi), Paul Kagame (Rwanda), Jessica Alupo (Vice President of Uganda), and Deng Dau (Deputy Minister of Foreign Affairs – (South Sudan).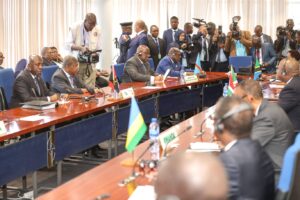 Additional head of states include; Felix Tshisekedi (Democratic Republic of Congo), @SuluhuSamia (Tanzania) and Commissioner for African Union Commission Political Affairs, Peace and Security Ambassador Bankole Adeoye.
Also read I have handed over my resignation- Muthama resigns as UDA chairman