President Ruto presides over the long awaited opening of Border police hospital ; Details.
FROM 50BOB TO 100M BORDER POLICE HOSPITAL, The DCI reported;
H.E President William Ruto presides over the official opening of the Border Police Hospital at Border Police Unit campus in Kanyonyo, Kitui County, which comes to tend to security officers injured especially in the war front.
The 130 bed facility will offer Intensive Care & High Dependency care, respond to Emergencies & Surgical operations mainly to security forces injured in the line of duty, thus complementing the 150 bed capacity National Police Hospital in Nairobi.
Recently, the US embassy Kenya through the Anti Terrorism Assistance program donated a 60 bed mobile hospital to the Border Police Campus, which has so far been critical in serving parts of Lamu County and over 2,000 locals.
Mr Noor Gabow pointed out that the structure was a product of the police welfare kitty, where officers have over the years raised upto a hundred million (100M) in a Sh50 monthly contribution per police officer.
Mr Gabow further stated that a rehabilitation & wellness centre was part of the hospital plan besides the upcoming airstrip and stadium whose constructions are underway at the campus.
Equally, the Inspector General Mr Japhet Koome highlighted that matters of health were so dear to police officers, pointing out that their job description made them vulnerable to injuries.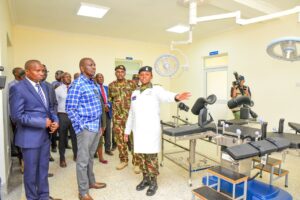 On his part, The President lauded the police for the bold move and belief in what small contributions collected over time could achieve, saying that this had driven the government to procure over Sh250 million worth of equipment for the hospital so far, and that the remaining will be jointly done by the ministry of health
To boost the great vision championed by the police, President Ruto pledged Sh20 Billion from the national government in aid of the ongoing works, further directing the remaining work at the airstrip to be taken over by the Ministry of Transport, & the Ministry of Sports, Culture and Heritage to carry on with the stadium.
Also read Do to others whatever you wish be done to you- Tabitha's message to exiting KRA boss