The government has not increased school fees- Ruto talks of university fees.
The head of state has clarified that school fees increase in public universities , was just a proposal by vice chancellors.
He revealed that the government has no plan of increasing fees and that all public university students will still be supported by the government.
Speaking through CS Machogu at the University of Kabianga's 10th-anniversary celebrations and its endowment fund drive, the head of state affirmed that there are no plans to privatize public universities.
He stated,"The government has not increased school fees, it was just a proposal by vice chancellors, we have not decided on matters of school fees."
He also stated that the government will continue to enhance governance policies and allocation of Helb loans.
He stated,"Our universities must adopt the posture of the 21st century and be at the forefront of its vital role in integrating research and innovation in areas of national development."
He added that the current education reforms task force , is working on  a plan to deal with the financial crisis and public debt owed by public universities.
He stated,"The reforms will revitalise our university education in the country."
He further commended the university of Kabianga for the milestone they have made in innovation, manufacturing, value addition, commercial enterprises, and innovative health technology.
He stated," All these innovative initiatives have positioned the university on a transformative and sustainable growth with a constant revenue stream."
On his part, The education cabinet secretary thanked the president for the continued positive reforms in the education sector.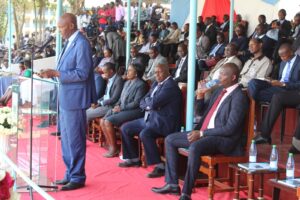 He stated,"Domiciling of JSS in primary schools is the wish of Kenyans and other key major stakeholders in the education sector which was considered by the Education reforms team."
"The capitation monies will be sent any time as the data on enrollment of learners has been done per school," he added.
Also read DP Gachagua meets up with small scale traders after their protest; Details of the meeting