DP Gachagua's 4Am visit to Mt. Kenya to thank God for the rains.
DP Gachagua's 4Am visit has caught the headlines. Speaking to the media, the second in command stated that he is very thankful for God has listened to the cries of Kenyans.
He trekked to Mt Kenya for prayers as the senior government officials' retreat was ongoing in Nanyuki, Laikipia county.He stated that Kenya has been facing the worst drought in history, where Kenyans lost their lives.
He stated," I took time to thank the almighty for his Grace and mercy for giving us rain after five consecutive failed seasons and the worst drought in 40 years."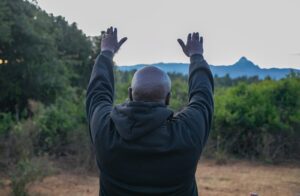 He added that his journey to the mountain reminded him of the days when Kenya was struggling for freedom and now God has granted the nation freedom.
He stated,I woke up early this morning at 4 am to make a nostalgic journey to The Mountain. The one-hour trek that included crossing River Rikkia reminded me of the great struggle for our freedom."
"I took time to thank God for his mercy and kindness to the people of Kenya and for giving us the freedom we are now enjoying."
Additionally, Gachagua stated that while on the mountain, he prayed for God to grant the president Wisdom and Good health.
He stated,"Facing Mount Kenya, I prayed to 'Mwene Nyaga' to give good health and wisdom to our Great Leader President William Ruto as he embarks on the economic transformation of our nation and the restoration of the dignity of the Kenyan people. Mlima is calm, steady, and stoic na iko sawa."
Also read Kenyans should treat those protest calls with contempt- Gachagua reveals police plan on monday