The association of media women condemns police attacks on Journalists during the protest.
The association of media women in Kenya, has come out to condemn the attacks that were made on journalists who were trying to cover yesterday's protests.
Speaking on Monday, the Executive Director Patience Nyange said the law enforcers  have a mandatory duty to provide security to journalists and ensure their safety without threats and violence in their course of duty.
She otherwise called this infringement of human rights and blocking the media's right of expression and freedom of press.
She stated," A free and objective media is an essential component of our democracy. It allows journalists to fulfil their crucial role as sources of objective and unbiased information."
"Therefore, the attacks on journalists today are a violation of human rights, curtail public access to information and lead to the erosion of press freedom," Nyange added
An ugly protest that was, several journalists were assaulted, their vehicles vandalised and their phones and equipment were stolen by goons in different parts of the city and country for that matter.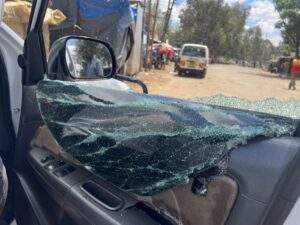 Others were beat up and arrested in the course of covering the mass protests called by the Azimio la Umoja One Kenya Leader, Raila Odinga.
Nyange stated,"Police officers attacking journalists undermines press freedom, limits the public's access to information, violates human rights and can cause physical or psychological harm."
For instance, A journalist was captured amid tears where she decried of goons beating her up and stealing her goods, where she only managed to secure her microphone.
"The Council is monitoring and will work closely with law enforcement agencies to ensure that those responsible for the attacks are held accountable for their actions," she added.
Also read We will see them bright and early on Thursday- Raila speaks after ugly protest