Construction of 65km road network joining satellite towns of Ongata Rongai.
Today afternoon, President Ruto presided over the official launch and construction of Ongata- Rongai road
The president spokesperson stated,"President Williams Ruto will today afternoon preside over the official launch for the construction of the Ongata Rongai- Gataka – Embulbul, Cooperative College Karen -Matasia – Nkoroi- Ongata Rongai – Nazarene University – Rimpa &JN (C58)- Lewisa Academy – Kahara Market Road, Kajiado county."
On his part, President Ruto stated that this is part of the bottom- up agenda.
He stated,"The ongoing development of seamless transport and communications connectivity under our Bottom-Up Economic Transformation Agenda will stimulate productivity along every value chain throughout the country. It will also spur economic performance that is commensurate with our Vision 2030 development aspirations."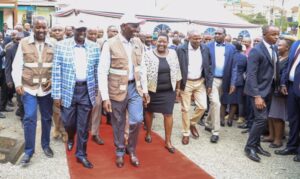 The second in command, Rigathi Gachagua also stated that this is a step to upscale the economic status of the area.
He stated,"Construction and improvement of existing infrastructure remains our focus in the determination to re-ignite economic growth. In that regard, H.E. President @WilliamsRuto today launched the construction of 65km road network joining satellite towns of Ongata Rongai in Kajiado County at Maasai Lodge junction. This will ease the movement of people and goods and spur growth in Gataka, Embulbul, Kandisi, Co-operative University in Karen, Matasia, Nkoroi, Ongata Rongai, Nazarene University, Rimpa, among others."
"The President is considering the people's request for construction of a market at Ongata Rongai to improve the environment of business for better returns. It will also dignify the people of Ongata Rongai," he added.
Also read DCI explains how a man disposed his girlfriend's remains in a suitcase after killing her