Please take 3 pieces of advice from me- Ahmed Nassir to the newly appointed general Ogolla.
This comes after president Ruto made the appointments and Presided over the swearing in that took place at state house.
He asked the newly-appointed team to uphold the Constitution and serve Kenyans without bias.
He stated,"Kenya has a tradition of a diligent, professional and outstanding military."
President Ruto said he will call upon the armed forces to support other agencies to advance the country's transformation agenda.
The President exuded confidence in General Ogolla as he takes over from General Robert Kibochi following his retirement.
"I am confident that you [General Ogolla] merit the Office," he added.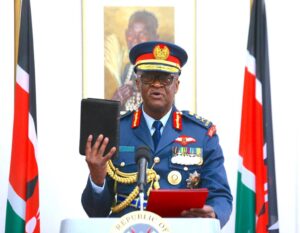 On his part, lawyer Ahmed Nassir gave a piece of adviced to the newly appointed general
He stated,"CONGRATULATIONS Gen Francis Ogolla on your appointment as Kenya's new CDF. You deserve it. Please take 3 pieces of advice from me. 1, return your boys/girls embedded in ministries back to the barracks."
2, cancel all the tenders issued to TOP GENERALS by Uhuru especially The surveillance one. Stop the Culture of GENERAL TENDERPRENEURS. H.E  William Ruto isn't insecure to buy loyalty of your Generals with lucrative tenders.
3, have an eye on history. Only two of your predecessors were serious 4 star Generals. Mohamud Mohamed and Daudi Tonge
"History has little to say about the rest…Joseph Kibwana, Jeremiah Kiangi, Julius Karangi (Gen Mwaniki was more deserving but the Nyeri Mafia played him) and Samson Mwathethe( Uhuru's occasional driver)…General…make a name and let history record your achievements!" He added.
Also read KDF clarifies top commander's resignation who received death threats