Top 10 Universities Offering Scholarships in Canada for African Students
In the world of higher education, Canada has emerged as a prominent destination for international students seeking quality education and diverse cultural experiences. Among these students, African scholars have found Canada to be an inviting land of opportunities, thanks in part to the numerous scholarships offered by Canadian universities. In this comprehensive guide, we present the top 10 universities in Canada that provide scholarships specifically tailored to African students.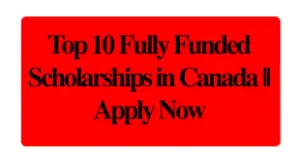 1. University of Toronto
Scholarship: The Lester B. Pearson International Scholarship
The University of Toronto, known for its academic excellence, offers the prestigious Lester B. Pearson International Scholarship. This highly competitive award covers tuition, books, incidental fees, and residence support. It is awarded to exceptional international students, including Africans, who have demonstrated outstanding leadership skills and community involvement. This scholarship not only eases the financial burden but also opens doors to a world-class education.
2. University of British Columbia
Scholarship: International Leader of Tomorrow Award
The University of British Columbia attracts students from around the world with its International Leader of Tomorrow Award. African students with strong academic records and leadership potential are eligible for this scholarship. It covers a significant portion of tuition costs and living expenses, making it an attractive option for those aspiring to study in beautiful British Columbia.
3. McGill University
Scholarship: Mastercard Foundation Scholars Program
McGill University, located in the vibrant city of Montreal, partners with the Mastercard Foundation to offer the Mastercard Foundation Scholars Program. This initiative provides comprehensive support to African students, including financial assistance, mentorship, and access to a global network. The program aims to empower African scholars to drive positive change in their home countries.
4. University of Waterloo
Scholarship: International Master's and Doctoral Student Awards
The University of Waterloo stands out with its International Master's and Doctoral Student Awards, which are available to international students, including those from Africa. These scholarships are awarded based on academic excellence, and they cover full tuition and provide additional financial support to ease the cost of living in one of Canada's most innovative cities.
5. Queen's University
Scholarship: Queen's University International Scholarships
Queen's University in Kingston, Ontario, extends a warm welcome to African students through its International Scholarships program. These scholarships recognize academic achievement and leadership qualities and offer substantial financial assistance to deserving students. Queen's commitment to diversity and inclusion is evident through these generous awards.
6. University of Alberta
Scholarship: University of Alberta International Scholarships
The University of Alberta in Edmonton offers a range of international scholarships for African students pursuing undergraduate and graduate studies. These scholarships help offset tuition expenses and support students in their academic journeys. With a strong focus on research and innovation, this university provides an ideal environment for ambitious scholars.
7. University of Ottawa
Scholarship: President's Scholarship for International Students
The University of Ottawa, situated in the heart of Canada's capital, offers the President's Scholarship for International Students. African students with outstanding academic records and a commitment to community involvement can benefit from this prestigious award. It covers tuition and provides additional funding to enhance the student experience.
8. University of Calgary
Scholarship: International Entrance Scholarship
The University of Calgary in Alberta recognizes the value of international diversity and welcomes African students with the International Entrance Scholarship. This scholarship assists students in covering their tuition costs and encourages them to contribute to the university's vibrant campus life.
9. Simon Fraser University
Scholarship: SFU International Deep Dive Scholarship
Simon Fraser University, located in beautiful British Columbia, extends its support to international students through the SFU International Deep Dive Scholarship. African students with a passion for making a difference can benefit from this scholarship, which assists in covering educational expenses while fostering global citizenship.
10. Dalhousie University
Scholarship: Dalhousie African Students Scholarship
Dalhousie University in Halifax, Nova Scotia, values the contributions of African students and offers the Dalhousie African Students Scholarship. This financial aid program aims to reduce the financial barriers that may deter talented African scholars from pursuing their dreams of studying in Canada.
In conclusion, Canada's commitment to international education is exemplified by the numerous scholarships available to African students. These scholarships not only make studying in Canada more accessible but also empower future leaders to effect positive change in their communities and beyond.